Aged 85, is a Singapore senior artist who has been a visual arts artist in Singapore for more than 60 years. He has dedicated his whole life pursuing his passion for art. He is considered an inspiration and legend to many young artists in Singapore.
His art practice began at Hwa Chong High School under the tutelage of first-generation senior artist Chen Wen Hsi in the 1950s. Despite failing Art as a subject in the final leaving school examination in the late 50s, Mr. Goh never gave up his dream to be an artist. He went to New York to pursue an art education from 1962 to 1966.
Whilst in New York, he took on multiple jobs to support himself and almost died due to a peptic ulcer in the stomach. But he never gave up. He had his first solo exhibition at the Ruth Sherman Gallery in New York in 1965. Despite his success in New York, Mr. Goh decided to return to Singapore because he wanted to take care of his aging parents.
Back in Singapore, Mr. Goh's artwork, "The Dune", won the first
UOB Painting of the Year in 1982. He was also awarded the Cultural Medallion in 1989. Till today, he is often recognised as an artistic forerunner in arts through his collage works. Many of his artworks can be seen around Singapore at locations such as Maybank Tower, Farrer Park Hospital, Singapore Turf Club, Conrad Centennial and Punggol MRT station.
To find out more about the artist and his artworks, please visit www.gohbengkwan.com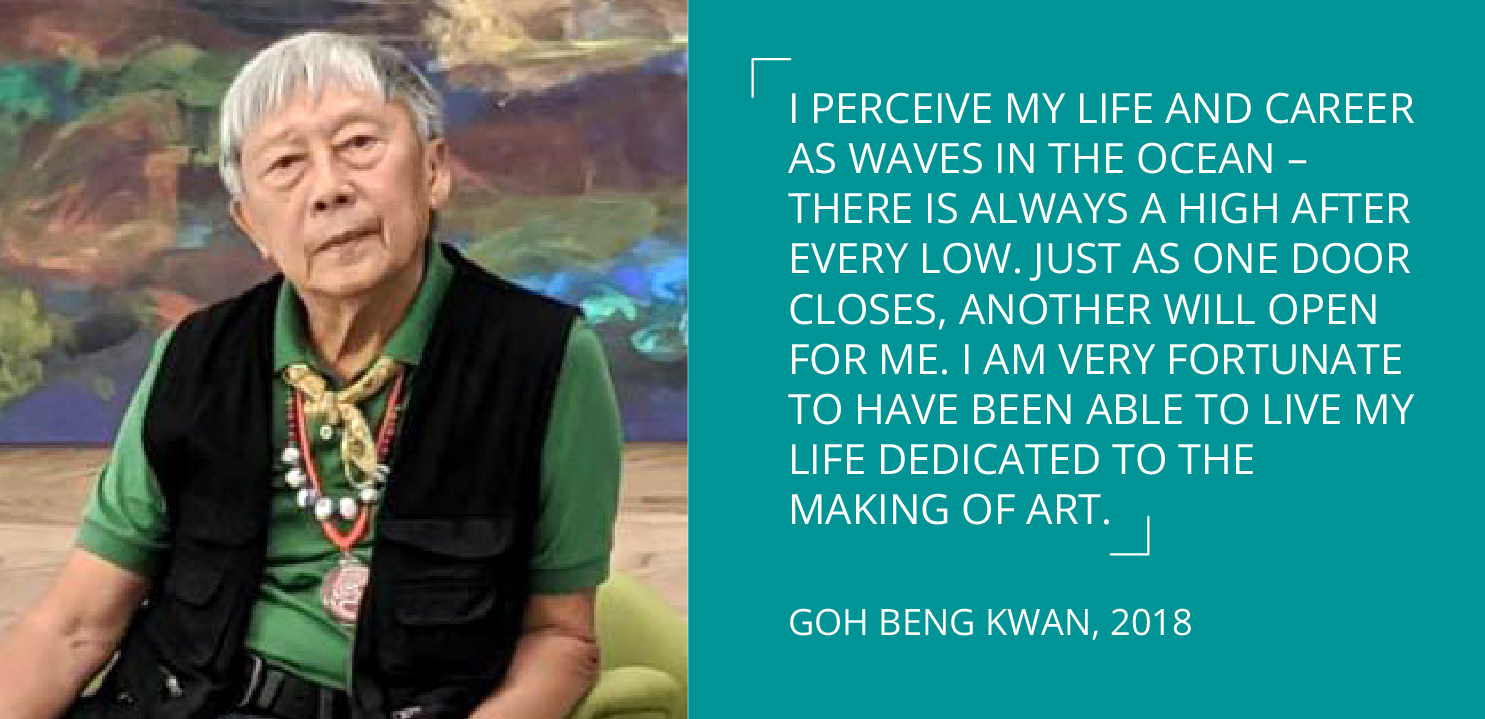 Goh Beng Kwan is exclusively represented and managed by ArtAF.
For all enquiries on acquiring Mr. Goh's original works, or to request for commissioned artworks, please contact ArtAF directly at art@artaf.sg or artist@gohbengkwan.com. 
Artworks acquired through ArtAF are authenticated with a unique password-protected QR code and recorded in ArtAF's inventory system. 
Proceeds from sales of Mr. Goh's artworks go towards supporting his continuing practice and promotion of his art.